Update 27.08.2013 P&F McEwen Mining Chart has printed $5.00 target price after yesterday Double Top breakout.
The whole picture has been set up for the major move in Gold and Silver now. McEwen Mining will enjoy its high leverage to the Gold, Silver and Copper price. Rob McEwen is on the road telling his story and

delivering results

.
"His observations about the changing trend in the commodities are extremely important - he is widely followed by the institutional investment community and they can start to reallocate their assets accordingly. The help to the commodities markets came from the places least expected: China reviving growth and Europe coming out of recession.
"Eric Sprott has spell it out for the rest of us: Gold and Silver Stocks Are In The Bull Market Again and Gold to follow. Eric Sprott calls this market situation as the most spectacular in his investment career. His Gold Bull margins calculations and projections for the share prices for Gold and Silver Stocks make our morning bright today."
"To make this dramatic and pleasant for Survivors picture come true we need just one thing - Pros with the money coming into the market, without them it will always be only the wishful thinking.
We can see them coming now."
MetalNews.com:
By Dr. Allen Alper
on 8/22/2013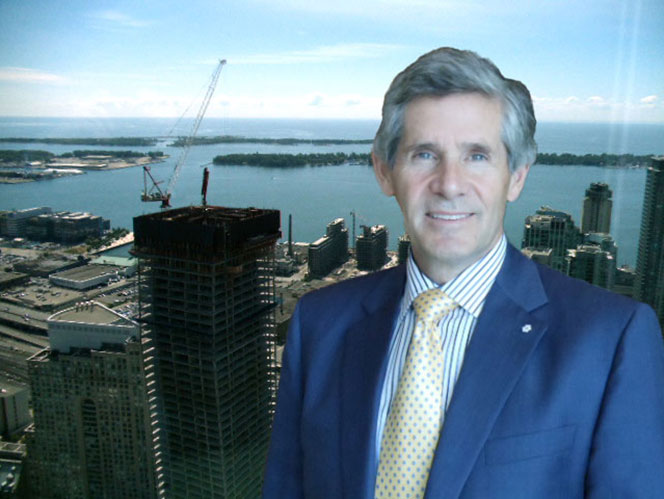 The Chairman and CEO of McEwen Mining (TSX: MAQ; NYSE: MUX), Rob McEwen, shared his views on the current state of the market and the future of their projects in the US and Latin America. Said Mr. McEwen, "Gold and silver shares are heavily oversold in relation to bullion. In addition, despite the low gold price there is strong demand in the Far East for physical gold and they are paying premiums of up to 30% over the spot price."
Why the demand for physical gold? Said Mr. McEwen, "It appears that investors there see the current gold price as a bargain, an amazing buying opportunity. What I find particularly curious is the buying and selling of gold by Central Banks today and in the 1990's. In the 1990's, it was the strong developed western economies that were selling gold to reinvest the proceeds in what they believed would be better performing investments. The Bank of England is infamous for selling its last ounces of gold at the very bottom of the gold market, $252/oz, in 2001. Today it is the developing nations of the 1990s that are now the strong economies and they are actively buying gold. They view it as inexpensive and something they want to have while the developed western nations are piling on debt.
Mr. McEwen has another interesting observation regarding the changes in gold share prices. He said, "There is another aspect that I call the "White House effect on gold shares". Starting with the election of the President in 1984 and coming forward to 2012, there have been 8 elections. During each of those election years the value of gold shares, as measured by the XAU gold index, has fallen and curiously, in every year that follows the election year the value of gold shares has risen by 10% to 80%. There has been one exception in 1997 when gold shares fell due to a major exploration fraud. Based on this relationship, I believe there is a reasonable probability that by the end of this year the XAU will be higher than it is now and higher than where it was at the beginning of the year. Look at the economy. There has been a tremendous amount of money pumped into the economy to get jobs going and spur investment." Despite this injection of capital into the economy, it still struggles. Said Mr. McEwen, "Long term unemployment has remained stubbornly high. Part time work is more available than full time work. There hasn't been large capital investment made. While we are seeing some positive signs the recovery is still quite weak." The reason that these issues occur, Mr. McEwen believes, is due to campaigning and the reality of governance. He said, "This happens because promises made by candidates can take longer to happen than thought. In the mining sector, the drop in the metal prices has had a dramatic effect on the revenue for companies, putting a real squeeze on operating margins."
The low precious metal prices have created large strains in the mining sector. Said Mr. McEwen, "In the last couple of months, we have seen several mines cease operations and many projects deferred, postponed or cancelled. The money that is available today is very expensive for any mining company. The market is not differentiating between good and weak companies. All companies have been sold down hard. Bargains exist. M & A activity will pick up. However, I don't expect the majors to be doing any M & A in the near term. A lot of them have fired their CEOs." With the removal of corporate leadership, each company is looking for ways to remain profitable. Said Mr. McEwen, "They are now trying to improve operating margins and improve cash flow. Exploration is being cut to the bare bones and projects are being suspended." Issues for mid-tier and junior mining companies are more pronounced, according to Mr. McEwen, with a few faring better than most. He said, "In the intermediate space and junior space, you will see some combinations of companies that will come out of the starting gate fast." Share prices have been hit hard – down 60% to 90% percent when you go from the seniors to the juniors. I believe this group has the biggest upside."
Mr. McEwen feels that his own company is well positioned in this difficult market. He said, "We are in good shape. We are looking for opportunities to combine, possibly with companies that have large shareholders who want continuing exposure to gold and who see value in owning shares in a larger stronger company. This is an excellent time to do so." Recently, the company has released information that supports their growth strategy. Said Mr. McEwen, "Our second quarter production numbers were 30% higher than last year. The El Gallo I Mine, in Mexico has increased by 38 % to 700,000 ounces. In addition, for a small amount of capital -- $5 million dollars – we will be able to increase production at El Gallo I by 50%. At El Gallo 2, which will be our second mine in Mexico, we are looking at alternatives. The lower silver price, the inability to sell Los Azules at a reasonable price and the difficult financing environment has forced us to look at alternative ways to develop El Gallo 2. We are considering a lower capex heap leach operation in lieu of a mill. We expect to receive approval to construct El Gallo 2 by early Q4 this year. Should we defer the building of El Gallo 2 to await better markets and financing cost, our production growth remains strong."
At the same time, the company is pursuing their American project, the Gold Bar deposit in Nevada. Mr. McEwen said, "We are hoping to get our permits for Nevada in 2014, build in 2015 and be producing gold at Gold Bar in 2016. At that time, we expect to have 3 mines that will be producing a minimum of 225,000 ounces of gold and gold equivalents."
With careful management, the company is in good financial shape. Said Mr. McEwen, "We are debt free and we have cash and liquid assets in excess of $45 million." Despite their financial solidity, Mr. McEwen understands the concerns of investors and managers. He said, "The downturn has been severe but we appear to be near or at the bottom which is good news."
Should investors start buying? Mr. McEwen said, "Absolutely, now is the time to be buying gold shares. Your risk profile should determine what size of company you buy. The senior gold will provide you liquidity and yield, the intermediates will likely provide better upside potential and the juniors are capable of providing explosive upside moves but the juniors are also the most risky. You need to own a number of juniors."
With a positive management strategy and a thorough analysis of the market, McEwen Mining is in an enviable position with a storehouse of cash and strong projects in their portfolio."
Please Note our Legal Disclaimer on the Blog, including, but Not limited to:
There are NO Qualified Persons among the authors of this blog as it is defined by NI 43-101, we were NOT able to verify and check any provided information in the articles, news releases or on the links embedded on this blog; you must NOT rely in any sense on any of this information in order to make any resource or value calculation, or attribute any particular value or Price Target to any discussed securities.
We Do Not own any content in the third parties' articles, news releases, videos or on the links embedded on this blog; any opinions - including, but not limited to the resource estimations, valuations, target prices and particular recommendations on any securities expressed there - are subject to the disclosure provided by those third parties and are NOT verified, approved or endorsed by the authors of this blog in any way.
Please, do not forget, that we own stocks we are writing about and have position in these companies. We are not providing any investment advice on this blog and there is no solicitation to buy or sell any particular company.