In order that this post will be properly understood we will address you to another one:
We have listened to the Conference Call with Rob McEwen and have understood that even "investment professionals" are not reading
McEwen Mining SEC 10-Qs
any more. As you know, we were pointing out during the years that Minera Andes and, later, McEwen Mining should disclose more Information Related to the Los Azules Litigation for the benefit of all shareholders involved.
Concern of the Mcewen Mining shareholders is well understood - there is not enough money to fund El Galo Stage Two even after this Rights Offering. As you remember, before 200 million Shelf Prospectus was announced - so there is more to come. It is so far for the Dream of MUX in S&P 500 by 2015 - as it seems now.
You can find more details about the McEwen Mining maps with Contested Former TNR Gold Properties, which appears to hold the High Grade Core of Los Azules copper deposit; recent ongoing Los Azules drilling campaign on "NON Contested Properties" and public legal documents about the ongoing litigation below.
50% discount price of the Rights Offering puzzles us as well, why 15-20% was not enough? Is it the case that even McEwen Mining can not get financing on the better terms now or there is something else? Rob McEwen with his largest holding in the company of 25% will benefit the most increasing his position by number of new MUX shares at this level, but It Is Not Prohibited By Law and he has invited everybody, who can afford, to participate proportionally to their holdings. Price action after November 8th will be one to watch now.
Some lose quotes from the web cast, please, listen to it in its entirety:

40:30 min - About the Short Position in MUX
"Sequoia
Partners:
Why the discount is 50%?
It can create the "Fast Money Crowd opportunity" - There could be a Buying on the 8

th

, Selling Short on the 9

th

and keeping the Rights - The

MUX

could be under Pressure after 8

th...
43:46 min - About Los Azules
Private Investor:
Will 60 million be enough for El
Galo
phase 2? Will there be any assets monetising or another rights offering?
Rob McEwen: these funds are insufficient - we will need 100 million by the end of 2013 to cover the complete construction of phase Two at El

Galo

. We have looked at

Los

Azules

, portion of this project is subject to a lawsuit that is finally coming into trial in the middle of this month it will take

approximately

5 weeks and by end of Q2 2013

we

will know the outcome of this Trial. We think that we are on the right side of the argument, but courts are always uncertain. At that moment the

Los

Azules

can be sold or J/V - if do not have it we can make another rights offering or another form of financing, it could be a form of debt...
Question: I can see that by the number of drills working on

Los

Azules

you feel pretty confident with your Poker hand. (RM tries to comment - muted... - S. - they are supposed to drill only on "NON Contested Properties"

as

per NR in June 2012) Even if you are putting funds to the good use, am I correct that you can not take those funds out of Argentina?
Rob McEwen: I think a lot of companies are nervous to take a lot of money out of the country... But the assets are there, they are producing. I have taken some comfort once they have changed the rules understanding that they are losing tax revenue."
Hunforvalue - a very knowledgeable and devoted shareholder of Minera Andes - has provided the very important observations:

Mr McEwen has repeatedly said that the motivation for merging Minera Andes & McEwen Mining was to internally fund the development of El Gallo. However, as I had pointed out previously, such as goal was completely unrealistic even if there were no issues with removing USD from Argentina. The roughly $10m per quarter dividend from 49% San Jose would only be sufficient to fund explorations expenses and corporate G&A. Now the question turns to is the proceeds from 49% San Jose sufficient to fund the exploration & development operations in Argentina? According to Hochschild Mining's interm conference call, the San Jose mine (aka Minera Santa Cruz - MSC) does not expect to accumulate excess cash within Argentina for the remainder of 2012 and will primarily use cash-flow-from-operations to fund development at San Jose and pay-down short-term debt which stood at $25m to $35m at the end of 2Q2012.

Now we see disclosed in the recent prospectus for the Rights Offering within the section "USE OF PROCEEDS" that a portion ($5m) of the $60m proceeds will be used to fund exploration at Los Azules in Argentina. In other works, management at McEwen Mining also has doubts whether the San Jose mine will be distributing enough excess cash to internally fund operations in Argentina. So much for trying to take USD out of Argentina because it looks like we will be bring fresh new USD into the country.

According the recent McEwen Mining conference call we should hear news next week regarding how much Q3 dividends were distributed from San Jose (Minera Santa Cruz) to our Argentina subsidiary, Minera Andes SA.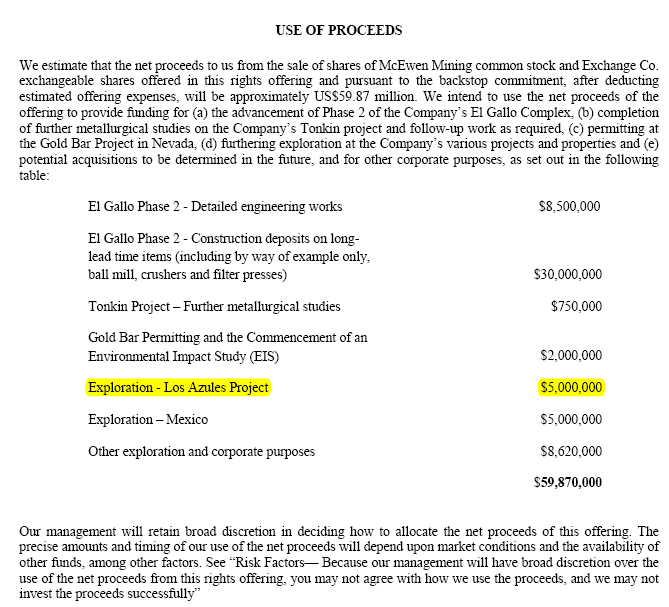 Below you can find the history of Los Azules litigation and parties involved:
TNR Gold vs McEwen Mining Los Azules Litigation: Pretrial Motion - Notice of Application August 20 2012 TNR.v, MUX
"
TNR Gold has published on its website the latest filing in Los Azules litigation vs Minera Andes (McEwen Mining) and MIM (Xstrata):
It should be read with all other filed applications, particularly with:
These new documents are providing further information about the state of the pretrial argument advanced by TNR Gold litigators George Macintosh, QC and Sean Hern - partners from Farris. According to the document former CEO of Minera Andes Allen Ambrose will be in a discovery again on September 20th, 2012. Interestingly enough, he has sold 1.7 million worth of McEwen Mining shares in February 2012, before all "problems" in Argentina were announced by Mr McEwen at his conference call in May 2012, but we are sure that it is a pure coincidence if any.
"We guess, that at some stage Mr Allen Ambrose - former CEO of Minera Andes, will be questioned during the Los Azules litigation on what exactly were his intentions explained in his emails presented by TNR Gold litigation counsel in Amended Claim.
Allen Ambrose emails:
24. "Next we should look at our alternatives to take out the Solitario (TNR Gold - S) agreement..."
TNR Gold vs Minera Andes (McEwen Mining now) and MIM (Xstrata now).
From Page 11
Part 3: Legal Basis
http://bit.ly/xhdqag"
What is at stake in this litigation is very well presented in the latest presentation of McEwen Mining on the pages related to Los Azules. Resource was increased recently to 15.4 billion lb of Copper and Los Azules is among the largest undeveloped copper deposits in the world.
McEwen Mining - "TNR Gold Lawsuit - Los Azules"
Valuation of this asset will be very important in this litigation and Argentina is the place where the situation is still quite fluid - maybe that is why TNR Gold is claiming back its former properties and announced that it is looking forward to develop it in Argentina. From McEwen Mining Maps the high grade copper core appears to be situated on former TNR Gold properties. Here you can find the long history of this litigation."
McEwen Mining - "Los Azules - October 2012, drilling commences"
"All of the drill holes from this season were completed on mineral claims that are not subject to ongoing litigation.
Holes 1277 and 1278 were infill, with the remaining holes drilled to expand the resource. Hole 1279 was the only exploration hole that was completed to its target depth. The other resource expansion holes (1174, 1280, 1281A and 1282) were lost prior to reaching the target zone due to difficult ground conditions.
In an effort to solve the problems encountered with the recent drilling at Los Azules,
McEwen Mining
has signed a contract with
Major Drilling
to provide four core drills for the 2012-13 drill season which are considerably more powerful than the ones used this season. The company believes this will increase the likelihood of reaching target depths (+500 meters), where high-grade copper mineralization has been encountered.
McEwen Mining
anticipates starting the upcoming drill season in October, adding 3 months to the program and will commence with the permitting process for a helicopter pad that could allow the drills to operate year round.
McEwen Mining will continue to focus exploration efforts on mineral claims that are not subject to ongoing litigation
."
McEwen Mining - "Los Azules - October 2012, drilling commences"
ProactiveInvestors:
Please, do not forget, that we own stocks we are writing about and have position in these companies. We are not providing any investment advise on this blog and there is no solicitation to buy or sell any particular company